Service Civil International
SCI Nepal Diary with Directory 2002
by Heinz Gabathuler (Mar 20, 2018)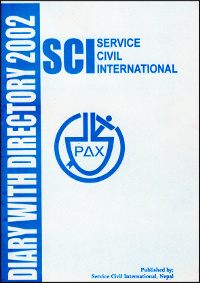 The diary, or pocket calendar, issued by SCI Switzerland since 1953 (http://archives.sci.ngo/sci-pocket-calendar.html) is pretty famous among SCI folks all over the world. Probably less people are aware that also the Nepalese SCI branch once issued a booklet called Diary with Directory 2002 – celebrating the International Volunteers' Year of 2001.
I assume that this issue has been the only one edited by that branch – at least the International Archives do not have any other in their holdings. It is slightly larger than the Swiss one (14,5 x 10 cm compared to 12,5 x 9 cm), and it is printed in high quality white paper, whereas its Swiss counterpart is printed in shabby grey recycled paper.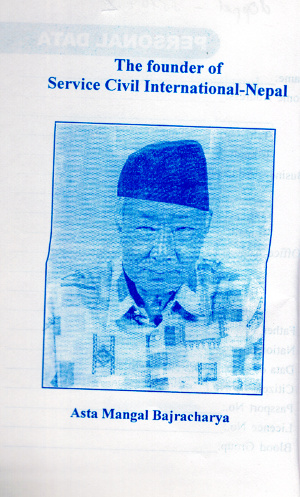 The Nepalese branch pays tribute to SCI history by publishing the picture of Pierre Ceresole right on page 2 - the Swiss would never show that much traditionalism ! And on page 4 that of its own founder, Asta Mangal Bajracharya. Most of the texts, and also the calendar parts, are in English language; just six pages – apparently the translation of the Introduction - are in Nepalese. This may make us believe that the diary was used as a giveaway to SCI friends outside the country, just as the beautiful however strangely smelling wall calendars the same branch had brought all the way to Europe for an ICM a few years later, causing as much joy as laughter among the delegates from all over the world. However, its most remarkable feature for me as a European is the Directory part of the booklet:
Just after the Introduction, and before the actual Calendar part which starts with a list of National Holidays, we are confronted with comprehensive lists of Past National Presidents of SCI-Nepal as well as of the branch's current Board Members, including a President, a Vice-President, a General Secretary, a Secretary, and a Treasurer. This seems to confirm the picture Europeans often have of the high value Asian branches attribute to formal functions, titles, and hierarchy in general. Just one page after 31st December, there is another address list: That of the Presidents, and contact addresses, of no less than 17 local SCI Groups, or Units - among them two Women Units, and one Mount Everest Unit. What may be more of a surprise is the following list of Nepalese SCI Volunteers - Past & Current" - in alphabetical order, some even with their telephone numbers. This list, which is headed by the Life Members and one Honourable Member, takes 19 pages in total.
So the calendar offers the picture of a well-structured SCI branch well rooted in different parts of the country, however it says only little about its actual projects and activities at the time when the calendar was issued.
Heinz Gabathuler, International Archives Coordinator
Reference:
In the SCI International Archives, the Diary can be found in file 33104.2 .