Service Civil International
Children Drawings from Algeria (1960s)
by Heinz Gabathuler (Jan 20, 2018)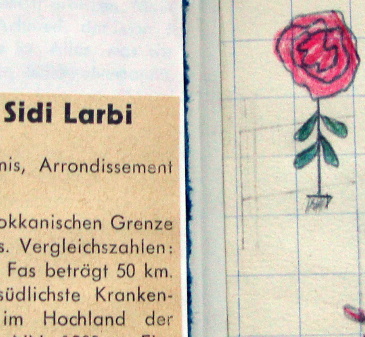 They may not be the most meaningful objects in the SCI Archives from a strictly institutional point of view, as they do not provide us with answers to the core questions about the history of our movement. But for me they were some of the most astonishing, and actually nicest discoveries I had made during my time as an Archives Coordinator: The bunches of children drawings in postcard format stored in a simple envelope by my pre-predecessor Ralph Hegnauer.
I happened to encounter them when I received another envelope full of such drawings from our old veteran Bertram Schröter in Germany. He also posted a small booklet handmade by the German SCI branch with the title "Kinder [children] in Sidi Larbi". He did not recall exactly how he received these objects nor what exactly had been their origin. It can be assumed, though, that the children drawings were destined to serve for PR and fundraising purposes in Europe for SCI's reconstrution work in Algeria right after independence from France was achieved after long years of war.
In the village of Sidi Larbi, near the Moroccan border, SCI volunteers had reconstructed the school. Some of the foreign volunteers also served as teachers, as they did in other places in independent Algeria. And the children – refugees just repatriated from Morocco - thanked them with drawing pictures of houses, people, flowers, cars: No apparent signs of traumatisation from war and exile, but rather the same pretty ordinary stuff that European children would draw as well. Plus an Algerian flag (le drapeau), showing that the children had not stayed without patriotic brainwash...
One of the volunteers who had worked in Sidi Larbi, Villi (Wilhelm) Hermann from Switzerland who later became a well-known film director, has made a documentary which recently had its premiere at the Locarno international film festival in August 2017 - and apart from the French conscientious objectors who had to seek refuge in Switzerland, the film also shows some of the Sidi Larbi children, more than 50 years after...
Heinz Gabathuler, International Archives Coordinator
Reference:
In the SCI International Archives, the envelope with the precious small drawings and the handmade booklet is part of the file 20628.2.