Service Civil International
t'Boschhuis
by Heinz Gabathuler (Mar 18, 2015)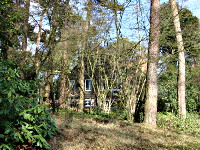 On March 13th, 2015, at last, I made it to Bilthoven: The small town near Utrecht in the Netherlands where the idea of reconciliation among nations after war through practical reconstruction work has been born almost one hundred years ago.
In October 1919, a bunch of pacifist with a christian background from different European countries had met in the house of the Dutch educator and pacifist Kees Boeke (1884-1966) and founded what later became the International Fellowship of Reconciliation (IFOR).
At this conference, the Swiss delegate Pierre Ceresole called for a practical voluntary service - Kees Boeke and him, both citizens of countries that had stayed neutral during the war, were also elected secretaries of the conference. This was the origin of the first "workcamp" that was started one year later in Esnes near Verdun, France, and thus of the movement later called Service Civil International (SCI).
Together with my friend Marlou Ruijter from Amsterdam, a long standing activist for VIA NL and the Sava Working Group, we went to look for the former estate of the Boeke family. The house where they lived in has been and still is called t'Boschhuis (forest house), and it can be found on Beetslaan 19 (formerly number 7). It seems to be inhabited by an elderly man who unfortunately refused to open the door to us - so it was not possible to speak to him and possibly get further information on the subsequent history of this historical place. It was also sad to see that there was no inscription next to the house remembering the event that had taken place there.
Nevertheless we are happy to have found the place, probably being the first SCI activists since decades to have rediscovered. The memory of Kees Boeke, however, is still somehow present in Bilthoven, with a street and a sports hall named after him, but located in a different area, close to the school he had founded later on, the Werkplaats kindergemeenschap where former Queen Beatrix had got part of her education - despite the fact that Boeke repeatedly was in conflict with the state by refusing to pay taxes for the military.
Special thanks go to Philipp Rodriguez and Liesbeth Vroemen for their expert hints, and to IEC's Jimmy for his enthusiasm and moral support.
Heinz Gabathuler, International Archives Coordinator
Annexe
Invitation to the conference in t'Boschhuis, August 1919 (German)