Service Civil International
Wikipedia for Peace: Writing about SCI History (Online Workcamp)
by Philipp Rodriguez (Jan 22, 2021)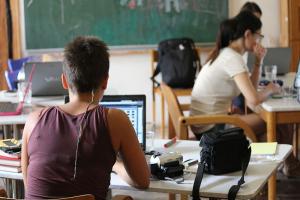 Besides archiving historical documents and files, it is important to write about them and to make them known. The Swiss branch of Service Civil International (SCI Switzerland) organizes a workcamp in cooperation with Wikimedia which is part of the Wikipedia for Peace project.
Volunteers are invited to do research with various material from SCI Archives to write new articles and improve existing ones for Wikipedia
Service Civil International and the international voluntary service (IVS) movement in general turned 100 years last year. The workcamp shall shed a light to the last century of volunteering by writing Wikipedia articles about SCI, the peace and volunteering movement. This online workcamp is part of the bigger Wikipedia for Peace project series, a cooperation between SCI and Wikimedia. The volunteers will get to know Wikipedia and other Wikimedia projects. By working closely with the SCI archives, the history of the peace movement will be studied in great detail. SCI archives will provide digitalized materials that has been extracted from more than 700 boxes in the archives.
The workcamp will take place from 1st to the 7th of April and up to 14 volunteers can participate. As it's an online workcamp, a laptop and a good internet connection are required. The workcamp language is English, but participants are encouraged to write articles in their native language.
Motivated volunteers can register online: CH-SCI 4.1 Wikipedia for Peace: Writing about SCI History (Online Workcamp)
Here is the website of the Wikipedia for Peace project with reports of all the previous workcamps: https://meta.wikimedia.org/wiki/Wikipedia_for_Peace