Service Civil International
Exhibition in Barcelona about refugee children in Catalonia and in the south of France 1939
by P. Rodriguez (Feb 18, 2021)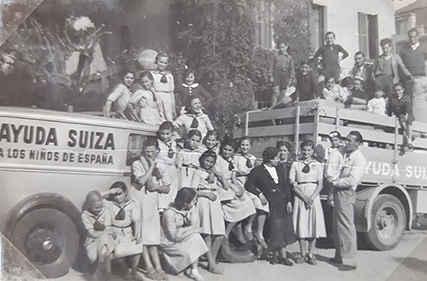 Ruth von Wild (1912-1983) whose journey through Catalonia and later through France, to protect refugee children, left a photo album with pictures from that time.
An exhibition at the Memorial Democrátic in Barcelona shows pictures from this album and tells the story behind it.
Ruth von Wild, daughter of a Swiss engineer, was born in Barcelona and came back to Spain with SCI and Swiss Aid to help with work with refugees of the Spanish Civil War (1936-1939). After the end of the Spanish Civil War, relief activities were moved to the South of France, where a lot of Spanish people had sought refuge. Under the direction of Ruth von Wild, a children's colony with Spanish refugee children was established at the Château du Lac near Sigean. Ruth von Wild died in 1983 after a dedicated life in for refugee and children's homes.
Maria Ojuel, a Catalan historian and SCI activist began to do research about Ruth von Wild and the Château du Lac colony, as her mother was one of the children who had arrived there in 1939. Her research led her to Switzerland to the Archiv für Zeitgeschichte in Zurich where the estate of Ruth von Wild is located, as well as to the SCI International Archives in La Chaux-de-Fonds.
Two years ago, by surprise, a photo album of Ruth von Wild with more than 300 photos was found by one of her relatives. The album contains images of her stay in Barcelona, the retreat and the colonies in the South of France. Together with her handwritten annotations, these will be on display at the Memorial Democrátic in Barcelona until the end of April.
Links